FAQs About Orders and Delivery
can I place an order? will it be delivered?
Yes.
Pocket Nurse is open to receive orders and fulfill them. Delivery times may be longer than usual.
impacted products that may be out of stock
We are working hard to keep up with demand.
The following items are in high demand at this time. Deliveries may be delayed. The list of items includes (but is not limited to):
Alcohol-Based Products
Disinfectant Wipes
Isolation and Surgical Gowns
Face Masks
Pulse Oximeters
Thermometers
Scrubs, Bouffant Caps, and Shoe Covers
Thank you for your patience.
Can i make returns?
Yes.
Please read the Pocket Nurse Return Policy. We are accepting and processing returns according to our current policy. If you need to make a return, please fill out and submit the Return Merchandise Authorization (RMA) Form.
PLEASE NOTE: Due to the current global pandemic, we are not currently accepting returns on any Personal Protective Equipment (PPE) items. These items include but are not limited to: masks, face shields, gloves, isolation gowns, and hand and equipment sanitizers and cleansers. If you are not sure if the item you want to return is included in this temporary policy, please reach out to our customer service team via email at cs@pocketnurse.com or by phone at 1-800-225-1600.
COVID-19 SAFETY PROTOCOLS FOR POCKET NURSE
TO PROTECT EMPLOYEES AND CUSTOMERS
We Have Implemented the Following:
Business Hours – In order to give our facilities team the time needed to clean and sanitize, we have adjusted our business hours to ensure ample time for sanitizing and disinfecting our facility. Our sanitizing protocols meet and exceed the CDC standards.
Social Distancing – We're promoting the practice of social and physical distancing throughout our facility with changes to seating, limiting room capacity, and providing visual aids and signage to remind our employees. In addition, we are limiting onsite guests to business essential.
Additional Safety Protocol – Masks are provided to all onsite employees; thermometers were provided for daily self-checks. No-touch hand sanitizers have been installed in high-traffic areas, and disinfectant wipes are provided throughout each department and common area.
Facility Review and Preparation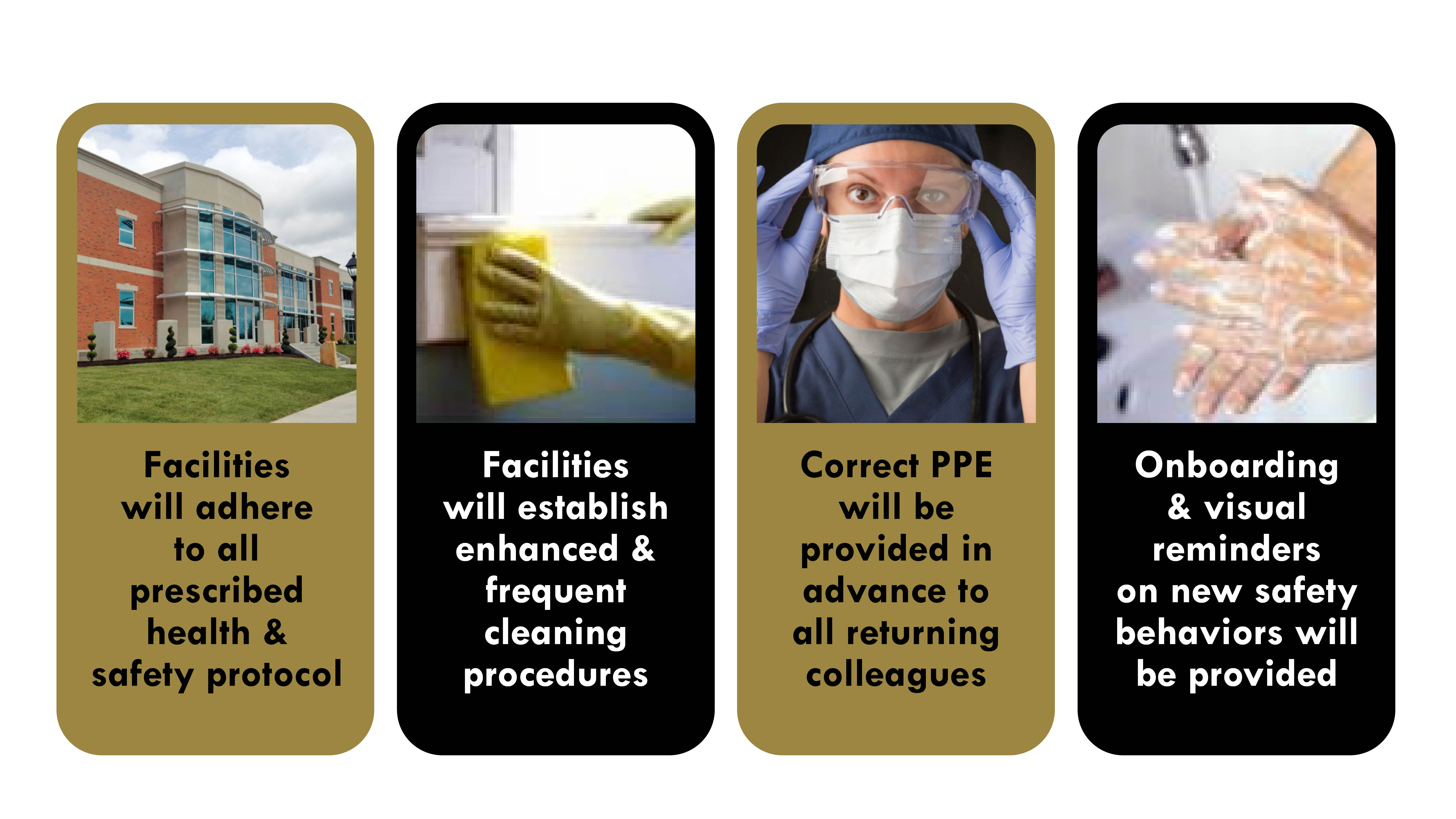 Supporting our communities
Personal Protective Equipment Donations – Although we have donated personal protective equipment (PPE) to hospitals, healthcare providers, and first responders in the recent past, we are unable to make further donations at this time. Thank you for understanding.
Product Prioritization and Availability – While prioritizing shipments of essential supplies to healthcare providers, our supply chain team is focused on restocking inventory safely and quickly.
Supporting our employees
Emergency Leave
Paid Time Off – In order to provide our associates with the time needed to take care of themselves and their families, we have implemented the following actions:
As a FFCRA eligible employer our full time and part time employees have 80 hours of Emergency Paid Sick Leave as well as Emergency Paid Expanded Family Leave to balance work and family, as well as maintaining teleworking for those team members who can.
If there is a COVID-19 CASE
If a Pocket Nurse employee has COVID-19 or is exposed
A plan is in place to handle a case of COVID-19
It will follow CDC and local Department of Health Guidelines